XPOWER XHSR911
Đối tượng

Khách sạn, Trường học, Ký túc xá

Loại cửa

Tất cả các loại cửa có đố cửa từ 95mm;

Độ dày 38 – 60 mm

Thân khóa

Hợp kim nhôm, thép không gỉ + Acrylic

Ruột khóa

SUS304

Chốt chống rung, chống trộm;

Màu sắc

Đồng amber, Grey, Black

Phương thức

Thẻ từ, chìa khóa cơ dự phòng

Loại Chip:

EM, TEMIC, MF1, ID

Loại thẻ

RFID Temic, Mifare Card

Nguồn

04 pcs AA Alkaline 1.5v Battery (Khoảng 10.000 lần mở khoá)

Online/Offline

Hỗ trợ tuỳ chọn giải pháp online và offline

Nguồn gốc

Trung Quốc

Thương hiệu

XPOWER

Bảo hành

24 tháng
Advantages:
1. USA standard 5-lock Tongue Structure Lock Core, hierarchical management;
2. Triple mute lock body;
3. Lock face has no artificial rivets and advance plastic parts (acrylic).
4. The board support anti-interference and error correction feature;
5. The circuit has been damp-proof and dust-proof processed before shipping;
6. The lock information will not loss when power off;
7. A clock inside the lock control the key card using time;
8, Anti-static support;
9, Low voltage warning;
10, Fit door thickness: 40-75 mm.
11, Fit door type: wooden door, steel door, anti-thieft door
Hotel Lock Offline System Details
1.Basic Needs for Hotel Lock System
2.Software
The software support English and Thai languages for now.
And we are delovping the Russian, Spanish, Portuguese and Vietnamese. Need more time.
We can provide the Win32 Dynamic Library for you to integrate with other software.
3.Card Encoder
It is necessary for hotel lock system, which is used to issue room card;
It support 2 or more encoders work at the same time,
If your Reception has 2 or more computers, this one is perfect for your project.
4.Handset PDA
This one is optional, but helpful. Suggest to take 1 for 1 hotel project;
You can set all room information on PC first, then download all the room information to the handset PDA at once, and then install
one by one, easy for lock installation;
Also it can Proofread the lock time, Operate check-out, read door opening records, upgrade lock firmware, Synchronize PC software
information;
5.Door Lock
Please choose the door lock according to your door type and contact us to double confirm the installtion details;
6.RF Card
The card is necessary, which is not included in the lock standard packing list.
The card can be T5557 card or M1 card; The default is T5557 card;
The default card is white card;
If you need printing images/ logo/ hotel information on card, no problem!!!
Optional Needs for Hotel Lock System
7.Energy Saving Switch
It is optional, but helpful to save power.
When guest insert the room card, then the room will get electricity.
8.Public Door Access Reader
It is optional;
With the public door access reader, the guests room card can unlock the gate public door;
9.Elevator controller
It is optional, for hotel security, some hotels will use it;
The guests need to swipe the room card to active the elevator, without the card, the elevator will not active;
Other features
If you want one card with more features, like shopping card, dining card, bath card, please contact us.
Advantage software management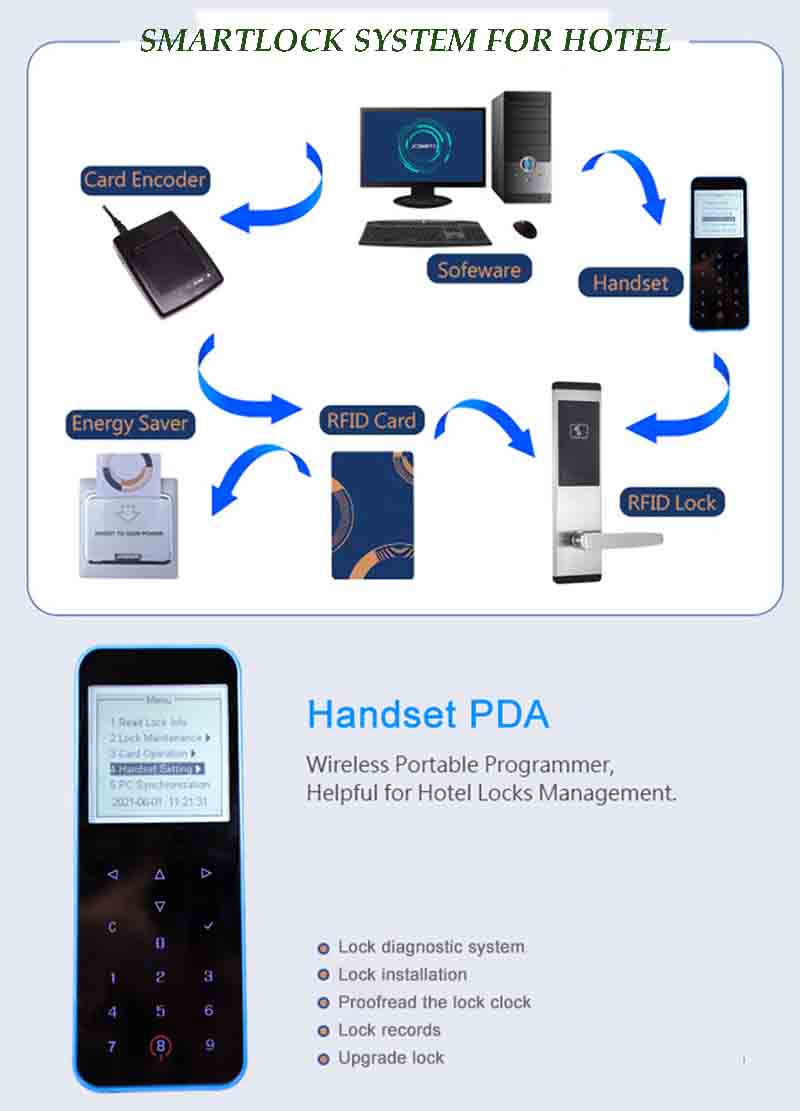 Specification:
| | |
| --- | --- |
| PRODUCT MODEL | XHSR911  |
| Material | Aluminum alloy + Stainless steel + Acrylic |
| Application | Hotel, office, home, school, villa etc |
| Reading card distance | ≤3cm |
| Static power consumption | Less 30μA |
| Working current | 5-40mA |
| Working temperature | -10℃-60℃(-20℃-70℃) |
| Antistatic | Support |
| Working voltage | DC6V 4pcs AA batteries, last 15,000 times unlock |
| Color | Bronze ember, Gray, Black |
| Unlock way | RF card, Mechnical keys |
| Lock body | Stainless Steel |
| Dynamic power consumption | Less 150μA |
| Standby current | Less 25μA |
| Chip type | EM, TEMIC, MF1 and ID |
| Undervoltage instruction | Support |